Catering Made Simple With The Help Of Special Event Rentals
Our catering equipment can equip a small event such as a dinner for 12 anywhere to a large scale gala. We have everything from convection ovens to plates and cutlery. Check out our extensive catering equipment inventory to help you cater your next event with great success!
Let's Move The Catering Event Outside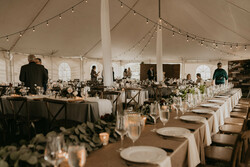 Providing a tent rental means that you can still have your event outdoors, but with freedom from any struggles that may occur thanks to Mother Nature.
When it comes to decorating for your event, a tent rental can provide you with a more defined space. You can use the outdoors as your backdrop while enjoying a nicely decorated space under the tent.